I love to try various pastas…looking for an enjoyable taste, attractive color and interesting texture. Well today my quest turned out marvelously – Fettuccine made from edamame and mung beans fit the bill!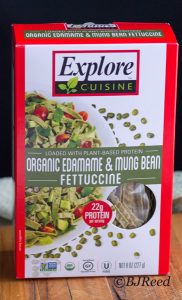 For those who are trying to cut back on eating wheat products or for gluten-free eaters, today there are many choices. Pick up some of these specialty pastas which normally are found in the organic section of the grocery store. Note the apropos name of this product, "Explore Cuisine".
The dish that I made with this fettuccine turned out to be delicious. I boiled the noodles for about 6 minutes. I poured on whole food, plant-based spinach/basil pesto then added garden fresh vegetable – red and orange cherry tomatoes, yellow peppers, kale, and sprinkled red pepper flakes on top. We had a sip of wine and a slice of whole grain bread. Oh yes, Tom made a beautiful salad but I was too full so it will become my evening snack. We definitely will buy this pasta again, try it, you'll like it! Any type of contrasting red pasta sauce would look lovely on this green fettuccine too!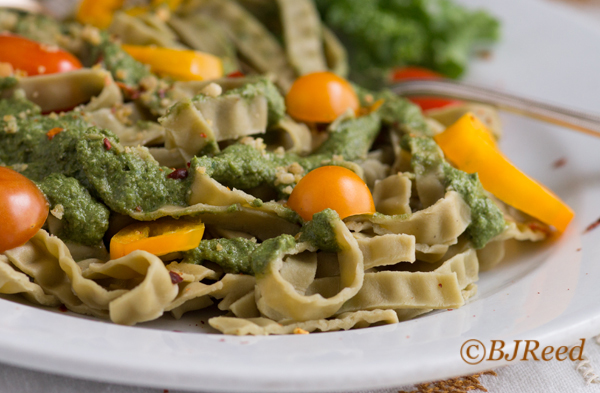 Make cooking and eating healthily an adventure. Try new plant-based products, fruits, veggies and grains. Besides the taste, note other features about food like their shapes and textures, you will start to appreciate the uniqueness of Mother nature in each piece. Take your time, be aware of all the senses which are invoked while eating, enjoy the little "bites" of life.