Tomatoes, tomatoes, tomatoes…we love heirloom tomatoes, Tom grows Cherokee Purples, Brandy-wine, Beefsteak, Striped German and more! This year was a banner year for all things tomatoes, with the plentiful rain in PA our tomatoes are growing fast and furious. They even survived the rabbits and ground hogs. With all these critters you would think we lived on a farm but we live in town. So we are thankful for the fabulous crop. What do we do with all of our beautiful tomatoes – no problem, plenty of recipes for tomato sauce, stewed tomatoes, soups and more. We grow our own but people in our area are fortunate to have plenty of tomatoes available for sale at the Farmer's Market, produce stands and grocery stores. Take in the rainbow of colors, unique shapes and sizes, and range of flavors, we are lucky!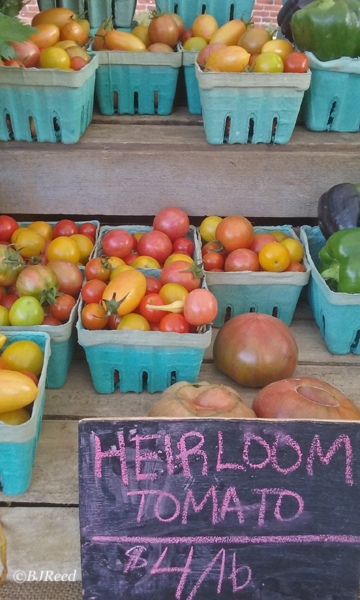 For our video today we are showing Coach BJ's quick, simple pressure cooker Heirloom Tomato Soup recipe. We are using a Swiss made Kuhn Rikon Stainless-Steel Pressure Cooker (5-1/4 quart). We use it practically every day, it's been a faithful companion for nearly eight years. Benefits of using a pressure cooker over other methods of cooking include the following; a time saver, retains beautiful appealing food color, easy to store just like a soup pot and nutritional value of plant-based foods are keep intact. Besides demoing the pressure cooker we have included a bonus, that is, how-to use an immersion blender to quickly blend the soup. Check out this plant-based tomato soup with minimal calories but terrific nutritional value, you can eat this all day long!
---
COACH BJ'S HEIRLOOM CHUNKY TOMATO SOUP: What a treat for the taste buds and your heart will love it too! Use your favorite garden heirloom tomatoes to make a quick nutritious soup to eat with salads or sandwiches or snacks.
Serves: 6 || Prep Time: 15 minutes || Cook Time: 4 minutes medium pressure
8 tomatoes, mix any heirloom vine ripe, core and quarter (no need to peel)
3-4 stalks medium celery, diced
1 medium onion, quartered
1 clove garlic, sliced
1/4 cup fresh basil, chopped
1-2 cups or as needed, water
3 tablespoons nutritional yeast
2 tablespoons tomato paste
1 teaspoon dried thyme
1/2 teaspoon poultry seasoning
1/2 teaspoon turmeric
1/8 teaspoon cayenne pepper or to taste
sprinkle with red pepper flakes
++++++++++++++++
Prepare all ingredients and place in the pressure cooker. Cook on medium pressure for 4 minutes. Take the cooker off the hot burner and let set for about 10 minutes, quick release if needed. Mix ingredients with an immersion blender. To make it chunky save off a few cups of the soup; blend a short time then add the cups of chunks back into the soup pot. Or to make the soup creamy, blend the whole pot to your desired consistency.
Nutrition Facts
Calories 61 Calories from Fat 3, Total Fat 1g, Saturated Fat 0g, Cholesterol 0mg, Sodium 40mg, Total Carbohydrate 11g, Fiber 4g, Sugars 1g, Protein 5g