NO-CHICKEN TOMATO RICE SOUP: Terrific looking, delicious, healthy…nutrient packed soup. Note the pieces of tofu, what do you think they look like – right…chicken! We learned this trick from a chef who made a similar type soup, we asked her to share her secret for making tofu with that unique texture. So we are sharing her tip with you. Freezing tofu for 24 hours changes the texture to look similar to cut up cubes of chicken.
Serve this soup to anybody, they won't know the difference and they'll love it just like we do. It's so good for your heart heath!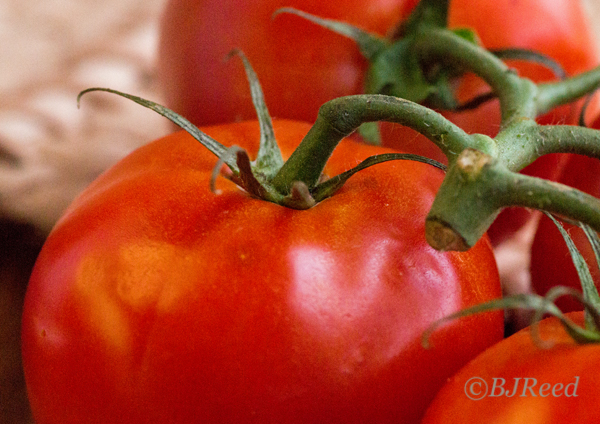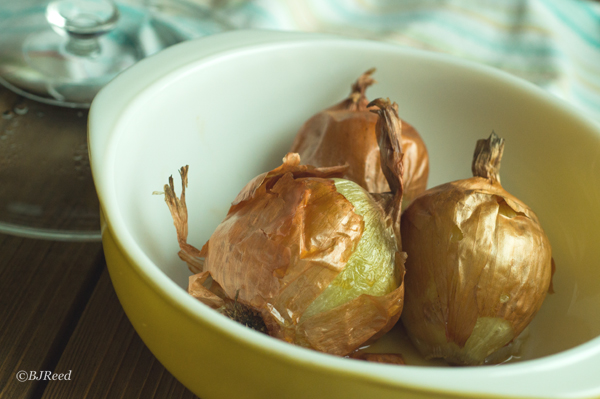 Serves: 10 || Prep Time: 30 minutes || Cook Time: 4 minutes medium pressure or 2 hours on stove
---
6 cups water (reserve 3 cups to add after cooking if your pressure cooker is 5 quarts or less)
5 cups veggie stock (homemade or commercial no salt added)
1 (14-ounce) package extra firm tofu (prepare a day ahead, freeze first, then drain and press)
2 cloves garlic, minced
3 roasted onions, roasted in microwave, then diced
3 stalks celery, diced
1 (optional) parsnip, diced
2 carrots, diced
1 cup brown rice, rinsed (do not pre-cook)
1/2 cup dried corn
1/4 cup fresh basil, cilantro or parsley, chopped
1 tablespoon chili powder
1 tablespoon poultry seasoning
1 tablespoon dried parsley
1/2 teaspoon cumin
1/2 teaspoon black pepper (or to taste)
1/2 teaspoon paprika
1/2 teaspoon turmeric
1/2 teaspoon salt
2 tablespoons nutritional yeast
1 (14-ounce) can diced or stewed tomatoes or homegrown tomatoes
++++++++++++++++
Freeze extra-firm tofu for 24 hours, thaw then press out water with a tofu press or between paper towels. Dice tofu into small cubes about 1/4″. In the meantime roast onions in a microwave; that is, place whole onions with skins into a covered microwaveable container in a microwave and roast for 6 minutes (otherwise, roast onions ahead of time in the oven). Cool onions, peel skins then chop onion into small 1″ pieces. Prepare vegetables.
Pressure cooker: Place all ingredients into the pressure cooker. Cook on medium pressure for 4 minutes. Take off the hot burner, let rest for 10 minutes then release pressure. Add the reserved water or more for desired consistency.
Stovetop: Prepare vegetables. Place all ingredients into a large soup pot, bring to a boil then simmer for 2 hours; occasionally stir.
Serve over your favorite leafy greens.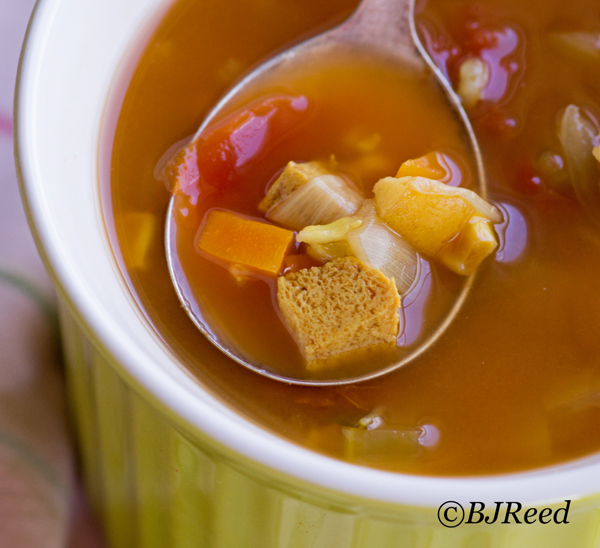 Nutrition Facts
Calories 173 Calories from Fat 16, Total Fat 2g, Saturated Fat 0g, Cholesterol 0mg, Sodium 179mg, Total Carbohydrate 26g, Fiber 5g, Sugars 3g, Protein 9g
---
Make Life Easy – Using a tofu press to press out excess liquid from tofu makes your life so easy!