During our Healthy Eating Adventure (HEA) at Shippensburg University in Shippensburg PA we were fortunate to see knife skills presented by Nick Iula, Chef and Food Services Manager at SHIP. He told us that in culinary school, formal knife skills courses would take a whole semester to cover. Although Tom and I are not professionally trained in knife skills, we do have tons of practical experience cutting and chopping. Hence we've done our best to deliver a very short tutorial to start you on your way with basic knife skills. Hopefully this video will aid you in navigating around your kitchen with a chef knife – chopping and cutting vegetables. The video shows some of the basics.
My favorite knife for cutting and chopping vegetables on a daily basis is a Ceramic Chef Knife (below). Since I have a bit of carpel tunnel, it's a perfect weight and size for my hand, plus I do not feel any pain after chopping. To be honest, Tom does more cutting and chopping than I do! I like that the knife stays sharp, it has been my loyal plant-based cutting companion for years and "knock on a wooden cutting board" I have yet to cut myself with this knife. SAFETY FIRST!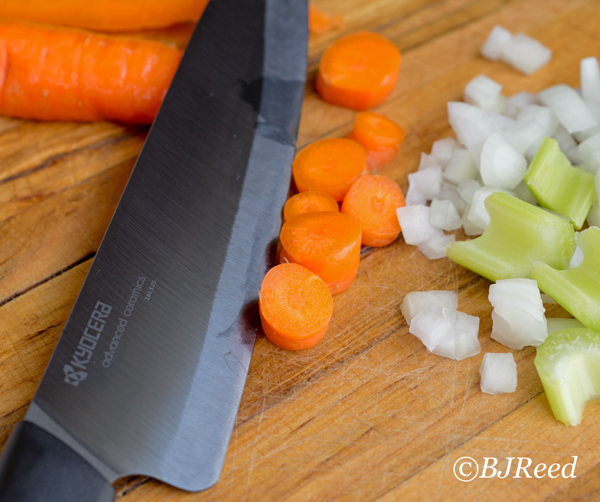 On the other hand, Tom prefers a heavier stainless steel knife, but every once in awhile I find him using my knife. Make sure that your knife suits you and fits the cutting task. In this case it is so important to use the right tool. In today's video Tom will be demonstrating chef knives only. He will use safety gloves to show you how easy it is use them for safety, especially if you're a beginner. LET's start CUTTING!
Happy chopping and cutting, get into the rhythm, it can be a meditative task!