This easy-to-prepare meal is sure to become a favorite! A mix of spinach and basil, along with other ingredients, for the pesto results in a tasty combination. Add the pesto to Angel Hair or your favorite pasta and enjoy the deliciousness!
Serves: 4, Prep Time: 20 min, Cook Time: 15 min
1 (13-ounce) package whole wheat pasta angel hair or your favorite whole grain pasta
1 cup fresh spinach
1/2 teaspoon salt
For Pesto:
1/2 cup cashew nuts, soaked
1/2 – 1 cup water (depending on consistency desired) 1/2 medium onion or 1 shallot, quartered
1 clove garlic, sliced
2 cups fresh Spinach
1/2 cup fresh basil
1 tablespoon nutritional yeast
1/2 lemon (juice)
1/8 teaspoon salt
Optional: red pepper flakes and Parm-Like Cheeze
++++++++++++++++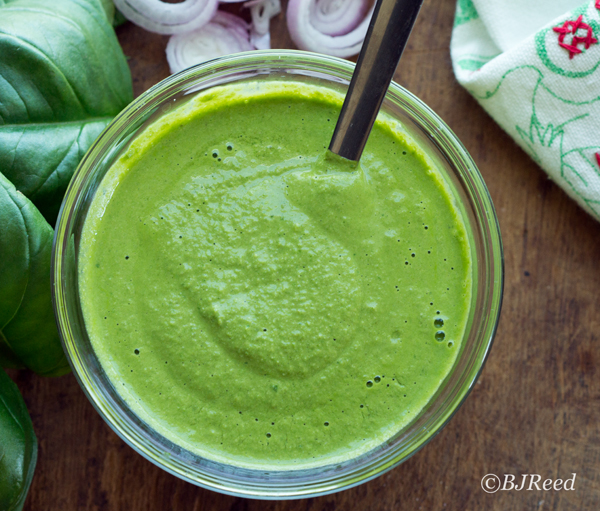 To Make Pesto: In a small bowl, microwave cashews in about ½ cup water or enough water to cover cashews for about 1 or 2 minutes. Place softened cashews and remaining ingredients in a blender. Blend, adding tablespoons of water until desired consistency is reached.
To Cook Pasta: Cook pasta according to package directions. To the boiling pot, add fresh spinach during the last 2 minutes. Drain and add salt and Spinach/Basil Pesto to the pasta, gently toss. After plating, add ParmLike Cheeze and red pepper flakes.
Nutritional Facts: Amount per Serving, Calories 446, Calories From Fat 84, Total Fat 8g, Saturated Fat 3g, Sodium 328mg, Total Carbs 76g, Dietary Fiber 11g, Sugars 4g, Protein 18g

ENJOY!