IRISH STEW: This dish is simple yet hearty. It requires the sacrifice of a good stout such as Guinness but it is well worth it in the end. We serve with Irish soda bread and homemade apple butter. Turn on some Irish tunes and you'd think you're in Dublin.
Serves: 4 || Prep Time: 30 minutes || Cook Time: 60-90 minutes (stove top) or 5 minutes medium pressure (pressure cooker)
1 bottle 11.2 fl oz Guinness Stout
1 cup water

1 cup vegetable stock

2 onions or leeks, coarsely chopped

4 stalks celery, sliced

6 carrots cut into 1″ chunks

6 yellow potatoes, do not peel, cut into large chunks

4 cloves garlic, sliced thin

2 (14 1/2-ounce) cans black beans, low sodium, include brine

1 tablespoon parsley flakes or fresh

1 tablespoon Worcestershire sauce

1/4 teaspoon black pepper

Optional:
If needed, use flour to thicken (make a roux by mixing a bit of the stew broth and a few tablespoons of flour – add the roux to the pot of stew and wait about 10 minutes to thicken).
++++++++++++++++
Stove Top: Prepare all vegetables. Place all ingredients into a soup pot, stir and cover. Simmer on medium heat for 60-90 minutes until vegetables have softened. If the stew needs to be thickened, for desired consistency, add flour by the tablespoon to a small about of stew broth, stir, add roux to the pot.
Pressure Cooker: Prepare all vegetables. Place all ingredients into a 5 quart pressure cooker. Cook on medium pressure for 5 minutes, take cooker off the hot burner and let rest until pressure is released. The stew will likely need to be thickened. Make a roux by adding a few tablespoons of flour to a small amount of stew broth, stir, add this roux to the pressure cooker and wait about 10 minutes for stew thicken.
+++++++++++++++
Whole wheat soda bread is a nice companion.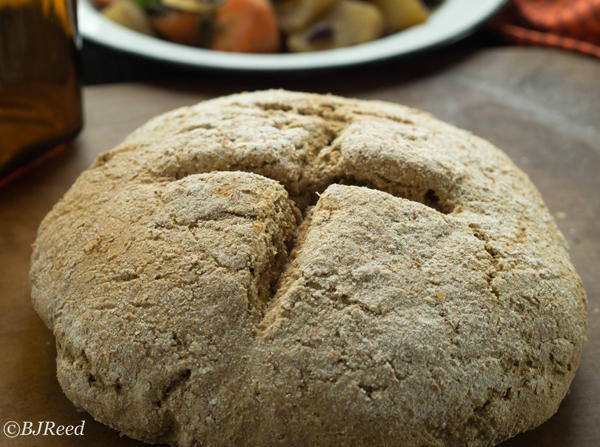 Nutrition Facts
Calories 480 Calories from Fat 1, Total Fat 0g, Saturated Fat 0g, Cholesterol 0mg, Sodium 446mg, Total Carbohydrate 90g, Fiber 22g, Sugars 4g, Protein 22g
---
This is one of Tom's favorites and we love the leftovers even better than the first plating.