One of my favorite sides – coleslaw with fruit! It's easy to make tasty plant-based coleslaw with pre-packaged coleslaw mix or, of course, you can make your own slaw. To add visual interest and ramp up the taste, just add various fruits. In this case golden raisins, Granny Smith apples and colorful grapes. The bottom line…it is nutritious, easy on the eyes and fabulous tasting!
Serves: 8
1 (12-ounce) package coleslaw mix

1/2 onion, quartered

1 clove garlic, quartered

1 cup golden raisins (divide)

1/3 cup raw cashew nuts (soak overnight or microwave)

1/3 cup water (to be used for cashew soak)

1 Granny Smith apple (core and cube with skin, soak in lemon juice)

1/2 lemon juice

1 tablespoon Stone-ground or Dijon style mustard

1/4 cup or, as needed, non-dairy milk

1/4 cup (or more ) black or red seedless grapes, halved

1/2 teaspoon celery seeds (sprinkle on top)
---
Pre-soak: In the 1/3 cup water, soak 1/3 cup cashew pieces overnight or soften in the microwave for a few minutes.
Dressing: In a food processor, puree pre-soaked cashews with onion, garlic, lemon juice, 1/4 apple with skin, 1/3 cup golden raisins and mustard. Add non-dairy milk, as needed, for desired consistency. Blend in food processor until dressing is smooth.
Combine Dressing with Slaw: Place slaw in a large serving bowl. Mix the prepared dressing into the slaw. Add remaining 2/3 cup raisins, 3/4 cup cubed apples and grape halves to the slaw; toss gently. Sprinkle celery seeds on top. Refrigerate a few hours so that the flavors meld.
---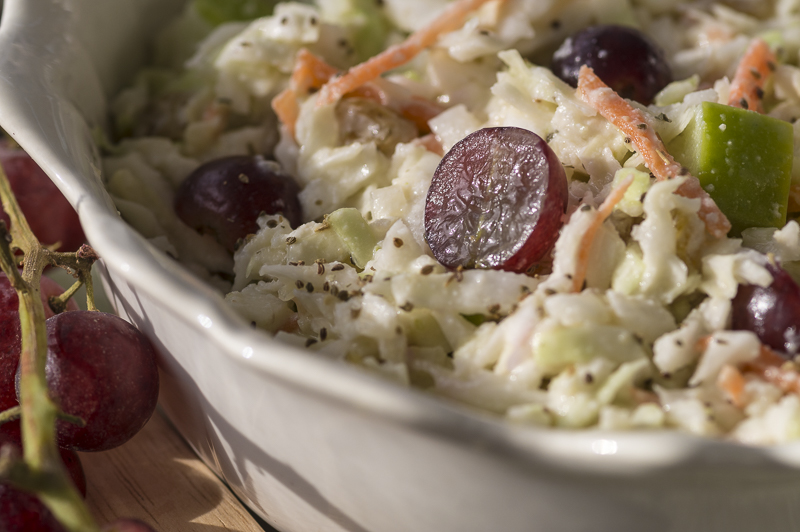 ENJOY THE RECIPE!