This "hearty" loaf will become a favorite! Here's a fun loaf for a main entree or to use in sandwiches.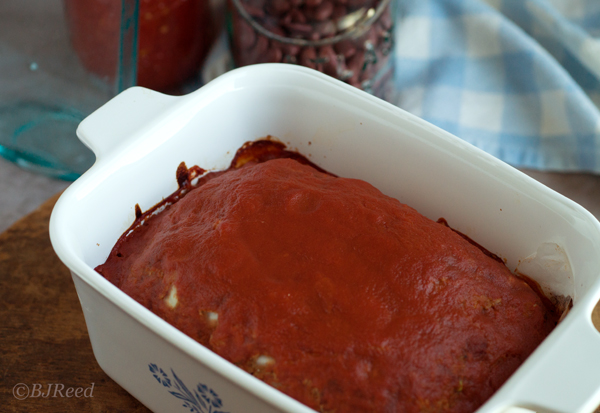 Serves: 8
1 large onion
2 cloves garlic
4 ounces (1 cup) Portabella Mushrooms
1 tablespoon fresh parsley
1 stalk celery
1 (15 1/2-ounce) can black beans, lo sodium (drain, reserve broth)
1 cup oat bran
2/3 cup farina (quick cooking cream of wheat or use cream of rice for gluten-free), uncooked
2 tablespoons nutritional yeast
1 1/2 teaspoons Worcestershire sauce, lo sodium
1/2 teaspoon hickory liquid smoke
1 teaspoon black pepper
2 1/2 teaspoons salt substitute
2 teaspoons basil
1/2 teaspoon oregano
1 (8-ounce) can tomato sauce, lo sodium
For Hot Tomato Glaze:
1 (15 1/2-ounce) can stewed tomatoes
1 clove garlic
2 teaspoons hot pepper sauce
Note: If you don't like it spicy, just substitute with your favorite topping (ketchup, barbecue sauce, etc.).
Preheat over to 350° F. In a food processor, dice onion, garlic, mushrooms, celery and parsley. In large bowl, mash beans then add oat bran, farina, yeast, spices and herbs. Add diced vegetables, mix well. Add reserved bean broth and tomato sauce, as needed, until the mixture can be formed into a nice moist loaf. In a non-stick loaf pan, form the mixture into a loaf. Top the loaf with the hot tomato glaze. Cook for about 40 minutes. Serve hot or cold.
To Make Hot Tomato Glaze: Drain tomatoes. In food processor, puree tomatoes along with garlic clove and hot sauce.
NUTRITION FACTS
Calories 171 Calories from Fat 9, Total Fat 1g, Saturated Fat 0g, Cholesterol 0mg, Sodium131mg, Total Carbohydrate 35g, Fiber 8g, Sugars 4g, Protein 9