I am BJ Reed aka Coach BJ, a plant-based health food coach, author and food photographer…here is a snippet of my journey.
Currently: I have committed to altering my lifestyle in order to improve my quality of life. By modifying my eating habits to a whole food, plant-based lifestyle and exercising regularly, several health issues have been resolved and the sidebar is that I lost some weight! I completed and have sustained the Mercersburg Engine 2 Healthy Eating Adventure (HEA) since 2010. I have been a volunteer for HEA for over seven years: I present Kitchen Make-over training for each adventure including cooking demonstrations and publish their quarterly newsletter. As a plant-based cook, I develop original recipes – they have taken me to the finalist competition for the last three years for the state of Pennsylvania Vegetable Cook-Off paveggies.org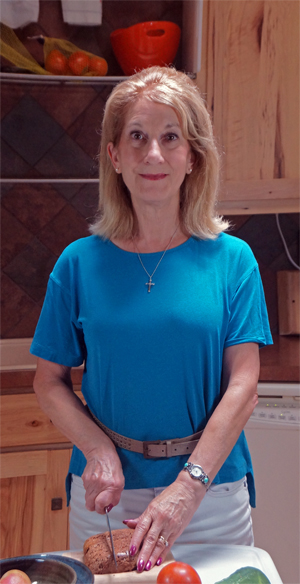 After successfully coaching people on their get-healthy journey, I decided to share my experiences and knowledge with the community. My professional background and teaching experience serve me well in my role as a food health coach.
During one leg of my journey I became a self-published eCookbook author. And, yet another leg took me down a path to become a food photographer.
As with my past endeavors, I bring the same level of achievement and commitment to my efforts associated with coaching to improve the eating habits and lifestyle of people in our community.
I have published four eCookbooks available to purchase and download from Smashwords.com and various other outlets. I recently published the latest in the series, Easy Meals. My books contain recipes which are whole food, plant-based with no oil, low sodium and low sugar. You can conveniently download my eCookbooks to view or print from your computer or reference from your eBook reader. I enjoy the art of taking my own food photography.
Training/Credentials: I began my formal education as a physical education and health major. I received a BA from Franklin and Marshall College, Lancaster, PA and an MBA from Shippensburg University. To satisfy my creative artistic right brain, I earned my Diploma from London's City and Guilds in Patchwork and Quilting. I continue to take photography workshops and web development classes online.
Professional history: As an entrepreneur I set up eCommerce businesses over 20 years ago. Additionally, I work as a studio artist and have designed award winning contemporary quilts. Before becoming a studio artist, I taught college and worked in the corporate world as a multimedia developer.