We love to experiment in the kitchen and Tom loves new kitchen toys (oops did I say toys or tools). So I'll share some of our first exploring with our AIR FRYER. In the following video, Tom shows you how easy it is to make healthy plant-based fries, of course, without using oil.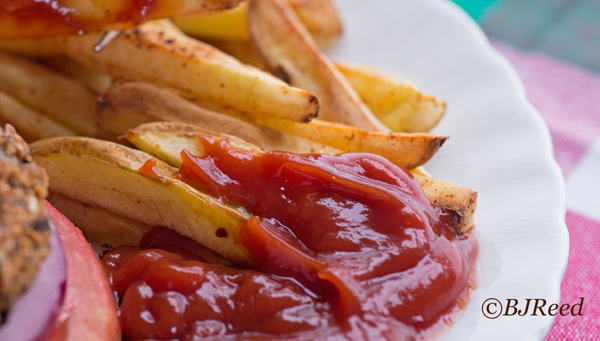 (1) FRENCH FRIES EXPLORED: About two months ago, Tom ordered an Air Fryer online. I was unsure about his new toy but I was a willing participant, as long as he's doing the cooking. Of course the first exploration was the making of crispy French fries. Wow, they just blew us away – Crisp and Easy! Out of the box, they turned out terrific. Here's the process; Tom just cuts up two potatoes as he normally would, places them into the basket, slides basket into the fryer, turn on 390 degrees F for 20 minutes, turns fries half way, and voila! NO OIL FRIES, who would've thought. We LOVE, LOVE the fries. Clean up is so easy, just wash out the basket. Tom makes fries about twice a week, sweet potato fried too. Since Tom loves toys and he takes care of them…don't tell him but perhaps that's why I'm so impressed with the FRYER, I don't have to cook!
Our dog Zipper is featured in the video. He loves plant-based, no oil, air fries too!
(2) PIZZA EXPLORED: Stay tuned, our next exploration will be cooking pizza in the Air Fryer.