Fresh Winter squash are showing their faces at farmer's markets, vegetable stands and grocery stores in the area. It's that time of year. I'm in heaven – Delicata Squash! Just to hold them in the palm of my hand is exciting, just my size. This gem is characterized by a cream colored delicate rind with green stripes.
There are so many varieties of winter squash to pick from, but, so far, Delicata has become my overall favorite! Why, you ask? Well let's see: Foremost, they are so easy to prepare, my favorite method is roasting; you can eat the "delicate" skin, no peeling, yipee; when roasting they become caramelized, so creamy and naturally sweet but not too sweet; they have a somewhat nutty flavor too; perfect size for a single serving (about 6-7 inches long) and they fit perfectly into my energy-efficient toaster oven; the green striped skin is just beautiful, with golden-orange colored flesh; this delicate squash could easily be eaten as a dessert, it's that tasty…need I say more.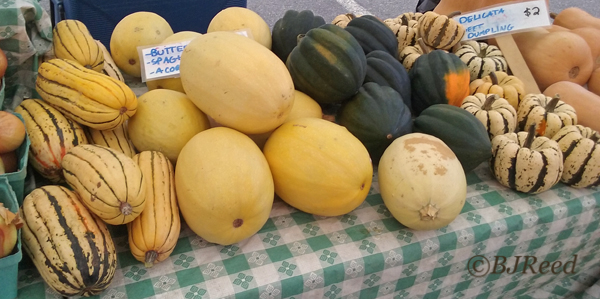 Now don't get me wrong, I love many types of winter squash, they each have their own attributes and purposes. But today it's time to roast a Delicata. Perhaps another day I'll cover other preparation methods.
I'm going to use it as a single serving for my lunch. So here's the simple roasting process for a Delicata Squash:
Preheat toaster oven for 5 minutes 395 degrees Fahrenheit
Scrub squash
Place parchment paper on the oven tray
Place Delicata squash on the parchment paper
Roast for 20-25 minutes or to your liking, turn mid-way. (I love to eat the brown crusty portion of the roasted skin.)
Cool, cut in half, scoop out seeds and stringy flesh (seeds can be roasted too but that's another post)
That's it, eat flesh and skin – DELICIOUS