Yummy gems for a special chocolate chip cookie treat! Who doesn't love a soft chewy chocolate chip cookie with a low calorie count, natural sweetener and no oil. It's hard not to eat them all right out of the oven…save a few for later!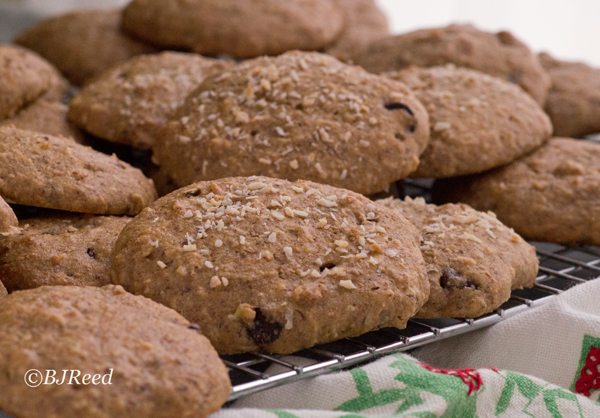 Serves: 24 (2" cookies); Bake 12-14 minutes.
1/4 cup date syrup or maple syrup
1 medium banana, mashed
3 T. aquafaba (chickpea brine)
1 t. vanilla extract
1/2 lemon (juice and 1 T. grated peel)
1/2 cup water plus 1 T.
1/3 cup Almond Butter or Peanut Butter
1 1/4 cups whole wheat pastry flour
1/2 cup coconut reduced-fat shredded flakes
2 T. flaxseed meal
1/2 t. baking soda
1/4 t. salt
1/4- 1/2 cup semi-sweet chocolate chips
Preheat oven 350F. Prepare and combine all liquid ingredients. Place dry ingredients in mixing bowl (except choc chips), mix. Pour liquid ingredients into dry, blend. Fold in chips. Cover a baking sheet with Silpat or parchment paper, spoon batter onto it. Bake 12-14 minutes.
Nutritional Facts: Amount per Serving, Calories 103, Calories From Fat 40, Total Fat 6g, Sodium 51mg, Total Carbs 13g, Dietary Fiber 2g, Sugars 6g, Protein 2g
---
Check out this cookie recipe along with 34 other dessert recipes in my downloadable e-cookbook. Whole food, plant-based dessert recipes include Apple Cherry Crumble, Banana Quick Bread, BJ's Double Chocolate Cake, Citrus Pumpkin Cheezcake, Date Coconut Chocolate Chip Cookies (gluten free), Fudge, Orange Cake, Soft Pretzels, Strawberry Banana Cream Pie, Sweet Potato Pie, Walnut Pumpkin Bread and more – all with a healthy twist.
ENJOY COOKING WHOLE FOOD, PLANT-BASED DESSERTS with COACH BJ…